Animal welfare is at the heart of every wool grower's farm. Around the world, wool farmers apply the best available animal husbandry practices to ensure the health of their flocks.
The Wool Industry's Commitment
Wool is increasingly seen by consumers as a sustainable lifestyle choice for fashion and interior textiles. Transparency in each step of the wool textile pipeline is essential, and it begins on farm. The global wool industry is committed to the highest standards of sheep care and well-being. 
Cruelty to animals in the wool growing countries of the world is a very serious crime. Tolerance in the wool trade of anyone suspected of abuse is, and always has been, zero.
More than 500 companies working in wool, representing more than one million people employed by the industry, have affirmed their commitment to the highest standards of welfare by signing the Dumfries House Declaration of September 2016. The Declaration sets forth the principles of best practice in the wool industry.
Visit campaignforwool.org for more details and to sign the Declaration.
IWTO Specifications for Wool Sheep Welfare
Each wool growing country has its own legally binding animal welfare legislation.
Best practice is defined in each country based on country-specific production systems and the wool sheep breeds of each country, as well as universal principles of ethical wool production.
The IWTO Specifications for Wool Sheep Welfare provide concise guidance on best practices for wool sheep care.
In it you will also find an overview of the global wool sheep industry and a description of legislative frameworks governing wool production in each of the main wool growing countries: Argentina, Australia, New Zealand, South Africa, United Kingdom, United States and Uruguay.
Our Specifications for Wool Sheep Welfare were developed by IWTO's wool-growing country members.
Premised on the "Five Freedoms" of the OIE's Terrestrial Animal Health Code, the Specifications reflect the diversity of wool production systems as well as the national legislative animal welfare frameworks of each wool growing country.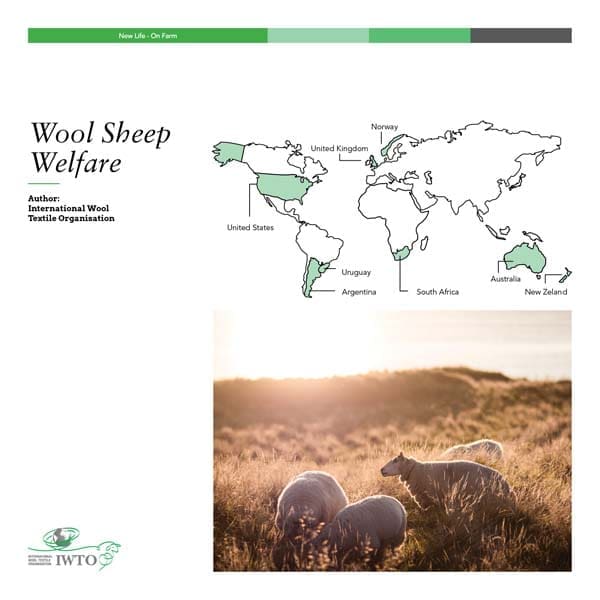 Wool Sheep Welfare