Wool is a naturally durable fibre. Wool garments can stay in circulation for a relatively long period of time, and this reduces their environmental footprint. Research shows that woollen products have the potential for several 'lifetimes', lasting 20-30 years and often longer.
Wool is readily recyclable, with pathways well established. One well-known hub for wool recycling is Prato, Italy. Textile manufacturers there perfected their trade and today, their expertise is highly sought after.
How existing wool items are recycled
There are three main routes in wool recycling:
The closed loop system  A mechanical process that returns garments to the raw fibre state and turns the fibre into yarn again, to produce new products (particularly suitable for wool knitwear).
The open loop system Here, the wool from a previous product becomes the basis for a new, usually industrial product such as insulation or mattress padding.
Re-engineering Getting creative, companies recycle old or unsold items into new products, like making a bag from an old woollen jacket, or using production waste such as trimmings to make other items. Wool is valuable! Very little wool goes to waste.
Recycling reduces waste
Discarded clothing ending up in landfill sites is a major global problem and here, wool offers a postive alternative. By choosing long-lasting, readily recyclable woollen garments over other options, you can reduce the quantity of textiles that go to waste.
Recycling is one way wool can be reused
Wool is one of the world's most suitable fibres for reuse, extending the lifetime of garments and helping the environment (and bank balances). There are numerous ways to reuse, from charity shops to clothes swap schemes, and there is increasing global demand for vintage woollen garments. The longer a garment or product is used, the more value is gained from the raw materials that went into making it. The same applies to recycling wool items. When the same wool fibres are put to further use, the environmental impact from those fibres is lessened.
Where to source recycled wool yarn and fabric
The IWTO office gets many requests for where to source wool yarn and fabric. Many IWTO Members are active in this area, and we have compiled a list with their product descriptions and contact details: IWTO Recycled Wool List (PDF).
Get more Recycled Wool Facts in our Fact Sheet below!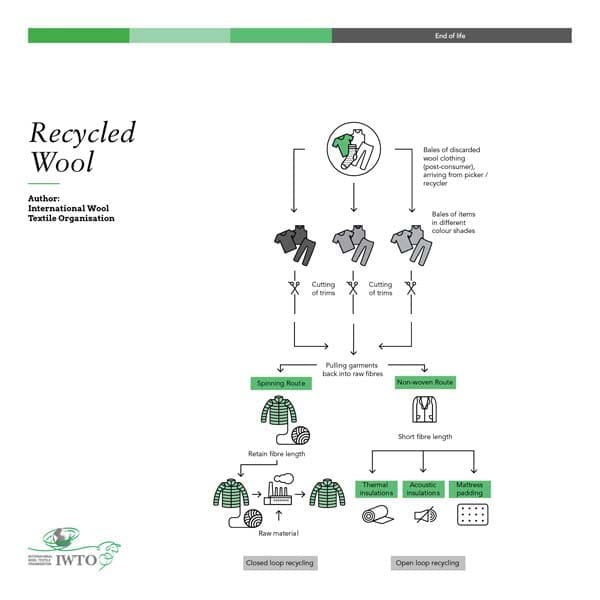 Recycled Wool
Recycled Wool Yarn and Fabric List
IWTO Members can help you source recycled wool yarn and fabric. Download the list with their product descriptions and contact details here: IWTO Recycled Wool List (PDF).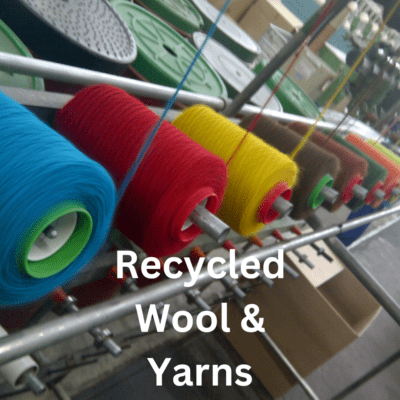 The Benefits of Wool Recycling – Latest Research
The life cycle assessment of a recycled wool blend sweater and analysis of its environmental impacts has been published in the peer-reviewed journal Sustainability.
Led by Dr. Stephen Wiedemann, Chair of the IWTO Wool LCA TAG, the study shows that impacts of a recycled wool product can be significantly reduced with best practice use and care, relative to that of a virgin pure wool sweater.
Find this open access publication here.