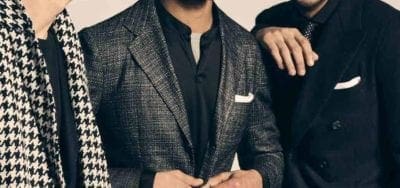 Adapting with style to pandemic restrictions, Pitti Immagine offered its leading trade fairs as the fully digital Pitti Connect for nearly four months.
Encompassing menswear for Autumn-Winter 2021/22 and fabrics and yarns for Spring-Summer 2022, social media powered the  platform with images that reached customer and end-user alike.
Animal fibres and leathers dominated many collections, as did firmly-rooted messages of sustainability. The emphasis has shifted from merely stating claims to proving them, and it was rare to find a collection which did not mention verifiable standards and certification, as well as giving fuller descriptions of the journey of their products in as much detail as possible.
Looking ahead: Wool trends from Pitti Connect
Menswear Autumn-Winter 2021/22
There was still a lot of dependence on dark, urban wear, military olive greens, black, and anthracite, still edgy and trendy in city wear.   Dramatic oversize black and white checks and herringbones and houndstooths, summed up the flair at iconic Neapolitan brand Kiton.
Wool seems a natural for the season's dense long coats, some with brushed surfaces, some of them remarkably lightweight. A vogue for big silhouettes prevails with shaggy coats and jackets featuring bright tartans in yellow, and brown, red, black.  Look too for graffiti designs on upmarket Carnaby Street 1960s coats.
Unusual for menswear collections, finer knits, next to skin layers in seamless garments and surprisingly soft knitwear found their way into jumpers, cardigans, and gilets. Knitwear often included performance features which were made clear to the customer, as with Gran Sasso's  'rain wool' and 'travel wool'.
Colours  went from bright blues and eye-catching tones to earthy browns and greens.  Dark, urban wear featured highly: military olive greens, black, and anthracite, remained edgy and trendy in city wear.   Dramatic oversized black and white checks, herringbones and houndstooths summed up the flair at iconic Neapolitan brand Kiton.
Now Read: 5 Wool Takeaways from the Digital Trade Fairs
Yarns Spring-Summer 2022
The Pitti Filati yarn show is always regarded as important for trends. This edition previewed 2022 spring/ summer and there was a definite place for Summer wool evident.  Zegna Baruffa, long committed to transparency and, in partnership with The Woolmark Company, is developing the concept Summer wool 'la lana d'estate'. Other highlights included Sato Seni with coloured wool, Consignee with natural coloured yarns, and Magliera GZ knitting undyed soft Merino.
Eco-responsibility is a major message at the beginning of the supply chain. Natural yarns specialists included wool based Tollegno who showed 'Flaxwool' made of linen and extrafine Merino wool, and 'Woolcot Bio' – a combination of RWS-certified extra fine Merino wool and organic cotton. The new 2022 yarn family was described by Tollegno as 'seasonless, green, and digital'.
Very fine and delicate yarns in pastel colours are in all the trend books, along with fancy looks. Interpreted by Lanificio Dell'olivo this translated into light-as-air wispy yarns for blends and knits, with an eco-based approach, spinning both synthetics and natural fibres.
Read Next: Why We Should Switch to Wool Carpets
Real Wool News from the International Wool Textile Organisation (IWTO)
Sign up for our newsletter and have the real wool story delivered to your inbox.