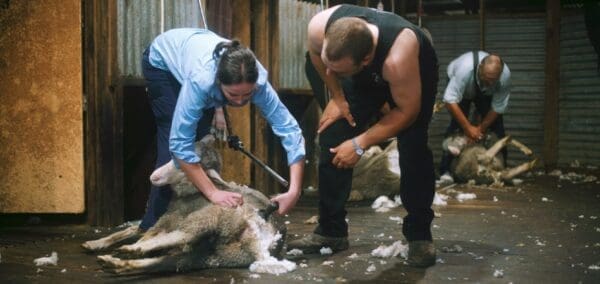 AWI 2024 Graduate Training Programme Opening for Applications
Australian Wool Innovation invites applications from graduates as of  August 1
The programme is aimed at graduates from a broad cross section of disciplines who have a background in or connection with Australian wool.
AWI Chief Executive John Roberts says the program has unearthed some fantastic young people who are now planning long careers in the wool industry.
The AWI Graduate Training Program is a unique opportunity to gain a thorough understanding of the wool supply chain from fibre to fashion. The 18-month program starts each year in March and is based primarily at the AWI office in Sydney. Graduates are also given the opportunity to gain global exposure to the wool supply chain through two international rotations.
A unique opportunity
Kate Rice and Harrison Dunning were selected for the programme in 2023.
Orginially from central NSW, Kate Rice (pictured above) combined a passion for agriculture and the wool industry with a love for textiles and design. "Coming from a wool growing family, it has been an amazing experience to witness the supply chain in action from the farm gate to end garment," she says.
Harrison Dunning, from Sydney,  found his way to the graduate program through a keen interest in sustainable food and fibre production.
"The experience gained through the AWI graduate program has been invaluable in developing a comprehensive understanding of the wool supply chain and expanding my networks throughout the industry," he says.
Apply 1-31 August
As of 1 August, applications can be made here. Note that the application period closes 31 August.
Now Read: All About Wool – the Essentials