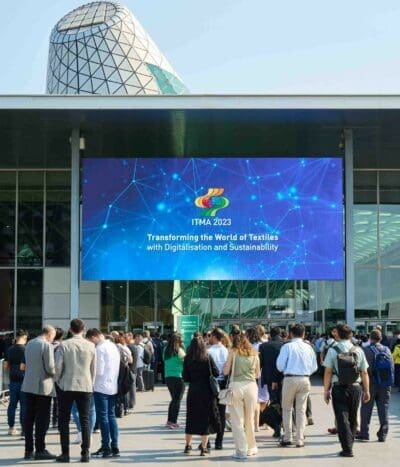 ITMA 2023: Transforming the World of Textiles
The 19th edition of the world's largest textile and garment technology exhibition, ITMA 2023, opened 8 June in Milan.
This gathering showcases the forefront of innovation in the industry, unveiling cutting-edge technologies presented by 1709 exhibitors from 47 countries.
Spanning 200,000 square metres of the Fiera Milano Rho venue, ITMA 2023 is the biggest textile machinery exhibition in the post-pandemic era. The top 5 sectors in terms of participation are:
• Finishing – 329 exhibitors (27% of exhibit space)
• Spinning – 257 exhibitors (13% of exhibit space)
• Weaving – 161 exhibitors (10% of exhibit space)
• Printing – 146 exhibitors (12% of exhibit space)
• Knitting – 128 exhibitors (10% of exhibit space)
Although not in the top sectors, the recycling and software sectors have attracted greater interest. In this edition, both sectors have seen a doubling of exhibit space. The number of exhibitors has also increased to 31 for the recycling sector, and 47 for the software sector.
Spinning innovation in long staple fibre preparation
The latest technologies for spinning provide for more consistency and efficiency. These yield greater control over yarn quality, less waste, and maximised productivity.
"An important focus for the spinning industry today is sustainability and circularity as textile manufacturers look for green solutions to be more competitive. As such, there is an increase in interest in textiles made from natural materials, including wool," says Eric Fessler, Sales Director at NSC Schlumberger.
NSC Schlumberger, an IWTO Member, is a world specialist in textile machines for processing long staple fibres such as wool and wool-like fibres. NSC is exhbiting a number of machines at ITMA 2023.
Also at ITMA: Knitting
Shima Seiki, whose state of the art facility IWTO was able to visit as part of the recent Congress, will demonstrate nine of its new R-Series flat knitting machines at ITMA 2023. Find out more about knitting tech at ITMA here.
More About Wool: Tap into our trove of wool knowledge on our Wool Resources page.