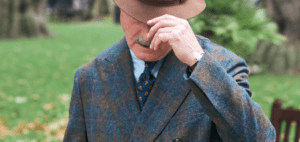 07 October 2021 – JP Hackett launched his new Townhouse Tweed for Wool Week 2021, in collaboration with the Campaign for Wool.
Developed with Lovat Mill, this tweed uses a 29 micron Cheviot wool yarn blended with wools from New Zealand and the UK.
Feel Better – Choose Wool
Nicholas Coleridge CBE, and Chairman of The Campaign for Wool led the celebration of Wool Week 2021 to media, retailers, designers and supporters of the Campaign at No 14 Savile Row, kindly hosted by Jeremy Hackett to highlight the many natural attributes and benefits of wool.
New products including the Townhouse Tweed are launched over the month of October to celebrate everything wool and all its many properties, including traceability back to the farmers and the source of the wool.
Discover:  What Makes Wool Naturally Sustainable
Townhouse Tweed Traceability
The new JP Hackett Townhouse Tweed was developed in collaboration with Lovat Mill. Using a 29 micron Cheviot wool yarn blended with wools from New Zealand and the UK, the wool yarn is spun, woven and finished in the UK. A perfect wool combination, the New Zealand wool imparts softness to the handle whilst the British wool adds durability.
The Lovat Mill Cheviot Townhouse Tweed quality is typified by woollen spun processing, using rich colour mixtures and blending which give the cloth its depth of colour intensity and lively character.
The colours in the tweed were inspired by the different coloured rooms at 14 Savile Row. The design is based on a more traditional plaid but is given a contemporary twist with the modern colour palette.
This beautiful cloth with a crisp handle is versatile in its end uses, with its optimum jacketing weight of 500g/m. It can be used for a variety of garments including coats, waistcoats, trousers and kilts….and even dog coats.
Jeremy Hackett commented, "I am passionate about tweed so I am thrilled to be able to launch the exclusive JP Hackett Townhouse Tweed made in collaboration with Lovat Mill in Savile Row this evening. The timing is perfect being the beginning of the Campaign for Wool's Wool Week."
Technology Meets Tradition
Ruth Duff, Lovat and the new Townhouse Tweed Designer said "Lovat Mill was delighted to be asked by Jeremy to help design and produce the new Townhouse Tweed. From CAD to cloth, the process illustrates perfectly Lovat Mill's combining of latest technology with traditional skills to create an exclusive tweed that will be enjoyed for many years to come."
Garments have been made from the Townhouse Tweed for the launch to highlight Classic structured looks, but with a softer, more comfortable feel and contemporary styling.
Each piece is a reduced structure, with zero-block (removing the shoulder pads) to allow the garments to be more fluid, with a softer drape, and with improved breathability.
3 Button Coat, zero block, no shoulder pad
3 Piece Suit, 1 button, soft shoulder
Safari Jacket, zero block
Double Breasted Coat, zero block soft shoulders
Wool in Lifestyle & Fashion
"Wool in lifestyle and fashion is showing certain signs of post pandemic recovery as consumers seek more sustainable choices," Peter Ackroyd, MBE and COO of The Campaign for Wool.
"Of particular note this season is the very strong return of Merino, Lambswool and Shetland knitwear together with accessories and next to skin sportswear. Similar levels of encouraging activity have been seen in the wool floor covering and interior sectors."
#choosewool: Find out more about the Campaign for Wool