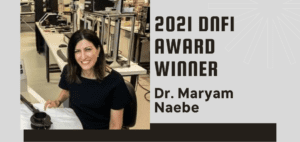 Dr. Maryam Naebe from Deakin University, Institute for Frontier Materials (IFM), Victoria, Australia has won the 2021 Discover Natural Fibres Initiative Innovation Award. Together with her team at IFM, Dr Naebe created a special light-weight nonwoven textile fabric that can be used as an insulator in automobiles.
The fabric is made from a blend of virgin and waste wool fibres.
Most insulation currently used in automotive applications is made from petroleum-based polyester, polyethylene, and polystyrene molecules, but leading car manufacturers are moving towards replacing interior materials with lighter-weight and biodegradable natural fibre options.
Wool insulation exhibits the same sound absorption, thermal resistance, and air permeability performance characteristics of materials currently in use. In addition, wool is naturally odour-resistant, flame retardant and antibacterial.
Wool's unique chemical and physical structure gives it inherent thermal and acoustic insulation properties, making it a very promising candidate for sustainable insulation, Dr Naebe noted. The research was published earlier this year in the journal Materials (available as open source here).
Read more: Green insulation for the Automotive Industry
About the Lead Researcher
Dr Maryam Naebe, is currently a Senior Research Fellow at the Institute for Frontier Materials (IFM), Deakin University, Australia. She received her Ph.D. from Deakin University in 2009 in materials science and since then has worked in the area of fiber science and functional materials.
Dr Naebe's research focuses on sustainability-inspired innovation using waste materials and adding value to natural fibers and biomass for sustainable industrial applications. She has actively supervised more than 25 visiting academics, research assistants, and HDR students and has published more than 100 scientific articles, conference papers, reports, and patent.
Now Read: Wool and Soil: How Wool Gives Back to the Environment