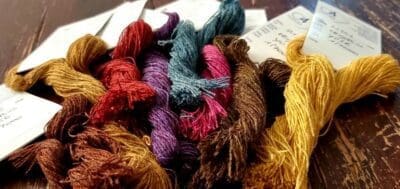 Filo took place in MiCo Milan over two days, February 23- 24, a modern setting for a revitalised agenda and a good attendance. As a show committed to boosting the initial stage of Italian production, the yarns were joined this time by major fibre companies, the supply line firmly attached to concepts of sustainability which Filo has made its own. Janet Prescott reports for IWTO.
Wool at Filo 57
Filo 57 was an impressive display of Italian effort to reset the industry after lockdown supported by the representatives of Milano Unica, Sistema Mod, and central government. The show explored natural, synthetic and cellulosic fibres, separately and in symbiosis, maintaining that 'effective sustainability and traceability can be reached only through a supply chain's perspective.'
Many new designs showed brightness and iridescence for marls and double-faced fabrics, including new yarns for suits and fabrics with innovative volumes.
Wool out in force
Wool was a major force mentioned in the Filo publicity. "If we talk about noble fibres, the fibre par excellence is wool. This is why the IWTA, the National Wool Trade Association, is present in this edition," Filo promoters said.
Established in 1920, IWTA is held to be one of the first associations to establish tracing.
"Wool: the future," part of a series of face-to-face discussuions, was led by Francesco Magri, Woolmark Regional Manager, Central & Eastern Europe and Fabrizio Servente, Woolmark Strategic Advisor. The talk focused on wool's expanding role, sustainability, and the importance of each stage of the whole supply line.
Several companies showed RWS wool (Responsible Wool Standard), while others offered recycled wool and blends with other fibres, including cellulosic and manmade. Many aimed at using some recycled fibre and ultimately at circular production.
There were several wool newsworthy aspects. A particularly interesting blend already in circulation is Schoeller's yarn, blending hemp with Merino used by several knitwear brands. The production of Filatura C4 is set to expand into furnishings, with regenerated wools, recycled polyester, viscose, linen and a Shetland-type wool. Toscofilati was noted for its specialised production of woollen yarns for weaving, used for apparel, accessories and furnishing.
Bright colours were a feature of many yarns on show as well as shine, twists and knots in an exuberant approach to the new season.
Projects with support for young people were pivotal. A show of designs by students in textile manufacturing college ITS TAM Biella was a particular focus of this edition. The importance of developing skills for young designers with Con le Mani ("handmade") demonstrated another strong arm in a revitalised Filo57 fully committed to a sustainable future which has wool as a major player.
eFilo 365 will continue the impetus as a resource available online all year until the next edition.