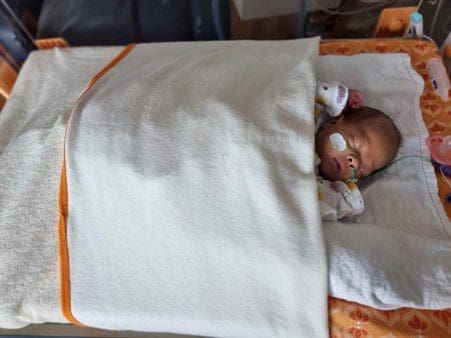 The International Wool Textile Organisation (IWTO) spends a lot of time promoting the multiple benefits of wool: its biodegradability, non-toxicity, breathability and warmth, etc. Nowhere are the links between wool and human health so evident as when woollen products are used in childcare.
The Benefits Of Wool For Infants
Wool and wool products are ideal for dressing, comforting and warming children, particularly newborns. Of all the fabrics that are used in creating clothing, blankets and other items for childcare, what makes wool so special?
Read Next: The Importance of Traceability in the Wool Industry
Temperature Regulation
We all know that wool keeps us warm. Its warming and temperature-regulating abilities are especially important when it comes to newborns. Babies use a lot of energy to stay warm, and wool helps to insulate their bodies against the environment and conserve energy. Thanks to wool's energy-conserving properties, it can even aid babies' growth. Researchers found that the weight gain in underweight newborn babies was 61% higher when they slept in woollen bedclothes, as opposed to cotton.
But wool does not simply keep a child's body warm; it helps to regulate temperature and keep it at healthy levels. When clothed in, or sleeping in, wool, babies' bodies do not overheat. The wool keeps the warmth in but also allows for the release of excess heat to keep the baby comfortable and healthy. The fabric allows the skin to breathe naturally, prevents sweating and helps the body find its equilibrium.
Hypoallergenic and Promotes Peaceful Sleep
Wool is not normally a cause of allergies. Merino wool in particular is hypoallergenic and gentle on the very sensitive skin of children. In addition, Merino wool bed clothes help children to sleep better. Sleep is especially important during the first three years of life, so it is vital that every effort is made to help babies get the best sleep they possibly can. Merino wool has been shown to be perfect for this purpose. Babies who sleep in Merino wool show lower rates of activity and have deeper, more restful sleep. Studies showed that these babies settled more quickly, cried less and slept longer. Children who slept on bedding made from synthetic fibres, on the other hand, were found to have more problems settling and staying asleep.
Who are The Little Miracles Trust and How Do They Help Newborns?
The Little Miracles Trust is a remarkable organisation based in New Zealand that is dedicated to supporting families with critically ill newborns. Their work revolves around providing vital resources and support to families during their challenging journey in neonatal intensive care units (NICUs).
The organization understands the emotional and financial strains that families face during this difficult time, and they offer assistance by supplying essential items such as clothing, blankets, and care packs. Moreover, The Little Miracles Trust provides a sense of community and support by organising events and connecting families who have experienced similar circumstances.
Recently the outdoor clothing brand Devold, through its arm Devold New Zealand, donated 500 Merino wool blankets to the Trust. While these blankets make a massive difference to the newborns and their families, they can be difficult and costly to obtain.
Devold's spokesperson said the donation was "a natural fit." The blankets come from Devold's own mill and are made with fine New Zealand Merino.
Learn All You Need to Know About the International Wool Industry
You can read more about this fascinating topic here. For more information on the wool industry around the world, take a look at our fact sheets, statistics and guidelines.
Now Read: A Closer Look at Wool's Flame Resistance