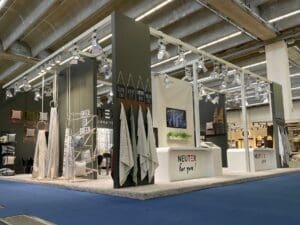 At the Heimtextil trade fair held in Frankfurt, Germany in January 2023, International Wool Textile Organisation (IWTO) caught up with decorative fabrics manufacturer NEUTEX. The latest news from the company is sure to set the tone for many in the textile industry in the coming year.
Neutex at Heimtextil 2023
NEUTEX is one of the leading providers of ready-made products in Europe and, as a fully integrated company, has the complete production chain from the raw yarn all the way to the finished product. The decorative fabrics and curtains made by NEUTEX are inspired from international fashion and furniture trends. Neutex made it clear that it was eager to embrace a completely green approach to production, development and logistics in 2023 and beyond.
Read Next: Meet Datini Fibres
Made in Green
NEUTEX works with the traceable MADE IN GREEN label by OEKOTEX®. Through this collaboration, NEUTEX ensures that its textiles are tested for harmful substances and manufactured in environmentally friendly facilities under socially responsible working conditions. Made In Green's supply chains can be traced via QR code and through each product's product-ID, so as to ensure a maximum of credibility, reliability and market transparency.
Recover™
NEUTEX has committed to working with Recover™, which recycles waste into high quality cotton fibres. These fibres are produced with a minimal amount of water and chemicals, making them one of the most sustainable cotton solutions available on the market.
OceanSafe
In an effort to minimize the effects of the textile industry on the world's oceans, NEUTEX now collaborates with OceanSafe, which promotes practices and standards to ensure a circular industry. NEUTEX has OceanSafe Cradle to Cradle Gold certification, marking them as fully circular, biodegradable and free of toxins.
Improved Customer Service
As far as products are concerned, NEUTEX introduced a range of made-to-measure curtains. Customers can use the company's online tools to order curtains that specially made to their specifications. In addition, the company also launched its NEUTEX app on Android and Apple, enabling customers to look more closely at its product portfolio and order fabric samples.
Learn All You Need to Know About the International Wool Industry with IWTO
To stay informed on innovative businesses such as NEUTEX and for more information on the wool industry around the world, take a look at our fact sheets, statistics and guidelines.
Now Read: Wool Air Filter Technology