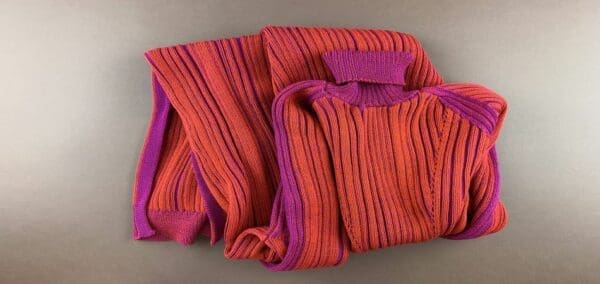 Green is the colour, and prevailing attitude, for 2023/24. Janet Prescott reports for IWTO from Fortezza Da Basso, home to the Pitti Immagine Filati yarn fair.
Wellbeing for Autumn/Winter 23/24, at Pitti Filati
As yarns go forward to Autumn/Winter 2023/24, prospects for natural and eco-friendly fibres run high. Among those in the league of natural fibres, wool is recognized as one of the most important. Along with traceability and recyclability, wellbeing emerged as a major theme: a need for comfort lurks on the horizon.
The renowned Spazio Ricerca, Pitti Filati's creativity laboratory, was transformed Into the Wild, where the textures and colours of deep forest launched a quest for a future marked by a sense of the fluid, the uncontaminated and (re)discovery.
Trading has been difficult and unpredictable for the past three years, but there was a genuine feeling of using the best features of ecologically sound products and a flair for experimentation. Eventually the organisers were able to announce that 3,000 plus visitors walked through its portals during the three days at the end of June.
Maximum cosy
Descriptions of caring and wellbeing were paramount, and knitwear for autumn winter 2023/24 was frequently referred to as soft, cosy or light. Yarns were fluffed up, brushed or blended for warmth without weight.
Fancy and classy designs provide more value and a longer life for garments and many of these intricate stitches and effects were worked on wool samples.
Wool was brushed and fluffed up, mixed with other soft and fluffy animal fibre.  Designs have been carefully selected for maximum expression of the twin qualities of comfort and chic as at green company Sesia.
Delicate yarns of extra fine Merino were used for lacelike knit constructions, while others took a more robust tack with   brushed yarns and fabrics with a light and airy feel, still cosy for the Autumn/Winter season – a clear case of comfort and wellbeing going hand in hand with concerns for eco manufacture.
Green … and all the others too
Colours included bright reds, yellows, blue, with multicoloured yarns as Lanificio dellOlivo, in brighter than usual tones to boldly challenge winter's natural tones.
Pinks, black and white fabrics with knops channelling a 1960s colour inspiration, plus bright wool tweed looks é la Jackie Kennedy and modern music icons of today, all related strongly to the mood for pre-owned garments.
The science of wool yarns
Slowool and attention to the whole lifecycle of fabrics pioneered by such as Botto Giuseppe has come into its own and is favouring wool in the way it is produced, while  the latest developments of Fildea, entrenched in early efforts on ecological approaches, included a tweed effect GRS yarn of wool and Ecotec cotton and new wool.
Meanwhile, Suedwolle Group's Biella Yarns commissioned Knitwear Lab, Dutch Design and Development Centre, to make an interesting wool dress in bright colours in extra fine Merino. The smooth construction of the garmet makes it look like a woven dress. Technical details: Victoria Nm 2/48, 100% Merino wool Extrafine, 19.5μ, anti-shrinkage, was the yarn of choice.
Read Next: Why Wool Matters